KisanMandi.com is the online Agri-Market  where you can Buy or Sell or Advertise  fruits & vegetables, agri produce or any agri machinery or Tools or Tractors etc &  it will truly fulfils our dream "Sabko Sahi Mol ".
Now farmers (Kisan) can sell their produce directly to end consumer i.e. Institution , Group Co-operative Societies , Citizen Associations or any other group buyers on KisanMandi.com & also farmer can save lot of money via Group buying of Agri products  or machinery directly from Manufacturing Companies and big distributors on a fair price.

Register as Smart Farmers with KisanMandi.com and earn Handsome Money -100% Free- Click here for register
This is to certify that KISANMANDI ONLINE AGRI MARKET PRIVATE LIMITED incorporated/ registered as a Private Limited Company on  26-04-2016,  is recognized as a startup by the Department of Industrial Policy and Promotion, Govt. of India.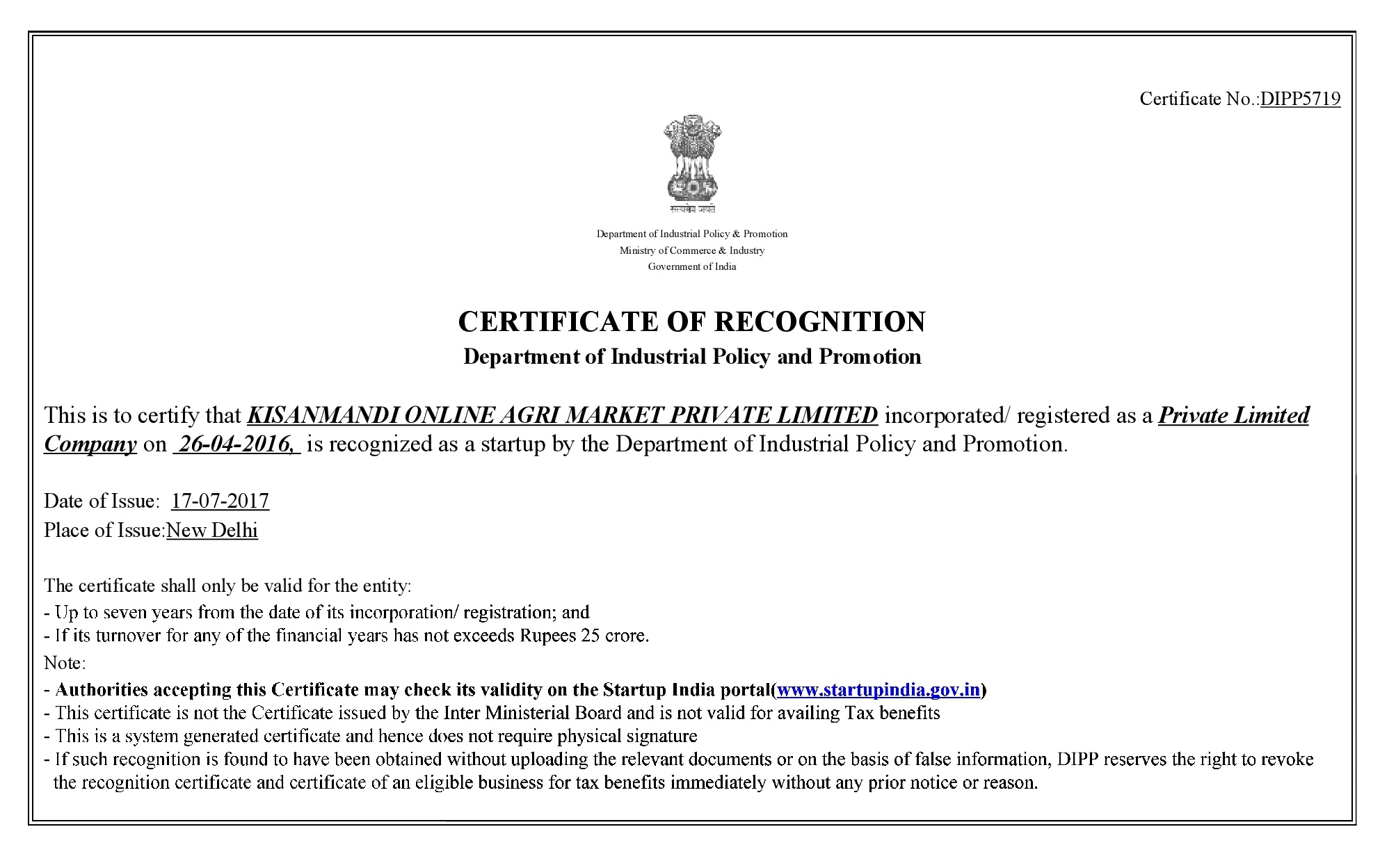 We have three vertical as under:
Retail – B2C just Like Dedicated Online Vegetable store in Main cities of India.
Online wholesale – B2B: Online Portal Where farmers can submit their Agri Produce for Sale.
Vendors (Channel Partners) – Online Portal where Manufacturer/Big Distributor  can sell Agri Machinery and products , Packing and food storage Material to Farmers.
Also, Kisanmandi.com will be catering to almost all the needs of the agriculture fraternity where they will find all commodities/ items ranging from Tractors. Diesel Engines, Pump Sets, Agro Farm Implements, Seeds, Cattle feed, Grain storage bins, Water Tankers, Wheel Barrows, Trolleys, Tree Guards, Gardening tools  and many more.
Organic Contract Farming-100% organic agri products:
We are the one of the first in the world who are providing  organic contract farming for Institutions , Citizen Associations & also small group of citizen on very reasonable rates. Our client can directly monitors the organic farming & ask farmers to work as per their instructions and it will give 100% organic produce & satisfaction to our client as per their needs.
Latest Vegetables entries in KisanMandi
Latest fruits entries in KisanMandi